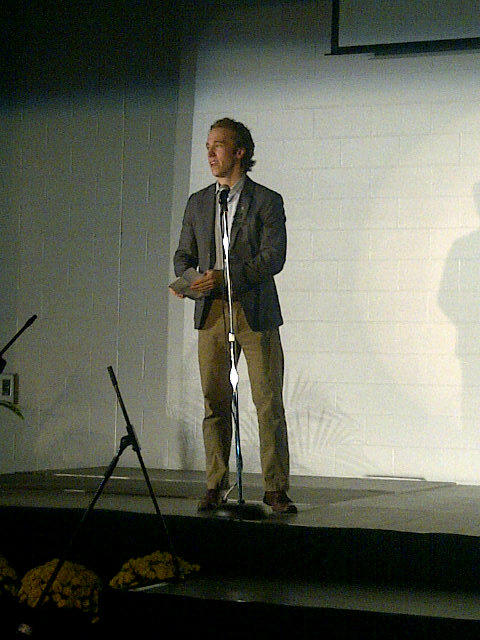 It was more like a rock concert than an opening!  All the students of CKSS were in the gymnasium of their new school to celebrate in the opening of Milton's newest high school.
The CKSS Spartan's squad lead us with some great music and dancing.  There was singing by the glee club followed by student after student talking about what makes them different, yet the same, as each one of them declared afterwards that they "are the face of CKSS"
The excitement continued to build until what many were waiting for happened…Craig Kielburger was introduced to a standing ovation.  He talked about is journey as a 12 year old speaking to politicians and government officials to do something that many want to do…change the world.
He spoke passionately about his teachers, his parents and his family.  Everyone who supported him in his journey.  Many would have said a 12 year old couldn't make a difference in the world…but he has.  Craig told us stories of people who inspired him in other countries to continue his quest and how deeply honoured he was to be there today.  Looking around at the students in attendance, you could see they were hanging on every word.  The opening ended with a mini concert from the band Neverest.  Once it was over students surrounded him to shake his hand and meet with him personally.  Like I said, it was like a rock concert.
Thank you to everyone involved in the organization of today's event and I am very honoured to have been invited to attend along with Principal Donna Taylor, Mayor Krantz, Halton school board trustees Donna Danielli and Nancy MacNeil and the teachers of CKSS among others in attendance.
Congratulations on a fantastic opening and good luck with the rest of the school year and the years to come.  Im very proud that in 2 years my son Anthony will be able to attend CKSS as they are laying the ground work of a successful curriculum and a great learning environment.